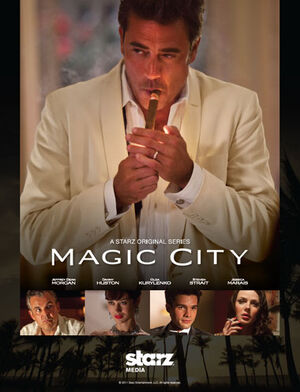 Magic City is a new drama debuting on the Starz network in Spring 2012. The show is set in the late 1950s, in Miami, Florida. Ike Evans (Jeffrey Dean Morgan), a charming hotel owner and family man, sells his soul to Ben Diamond, mob boss, in order to keep his family, which includes his former showgirl wife Vera Evans, afloat. Ike must walk a thin line between making a living and endorsing corrupt and seedy behavior at his hotel.
General Synopsis
Edit
Miami Beach, 1958-1959. As Ike Evans rings in the New Year at his luxurious Miramar Playa Hotel, Havana falls to Castro's rebels. It's a turbulent time in Miami, but it's THE place to be. The Kennedys, the mob and the CIA all hold court here. And Ike, he's the star of his hotel. But everything comes at a price. To finance his dream, he sold his soul to mob boss Ben "The Butcher" Diamond. Ike's wife Vera, a former showgirl, and his three kids think he's an honorable man, but he can't break his pact with the devil. His life is a façade. In fact, nothing at the Miramar Playa is what it seems. By day, it's diving clowns and cha-cha lessons. By night, escorts have secret liaisons with husbands in the family cabanas, while Miami's seedier residents and the law drift together to hear legendary singers, musicians and comics. As Ike's world threatens to implode, he fights for his family, and the Miramar Playa, in the Magic City.[1]
Main article: Season 1
The Year of the Fin
Edit
A chronicle of life in and around a luxury hotel in Miami Beach circa 1959 begins with manager Ike Evans' future hinging on the success of his establishment's New Year's Eve concert. To ensure that things go well, he enlists the help of a local mob boss, but the price may be dangerously high to Evans and his family.Original Air Date: Apr 6, 2012
Feeding Frenzy
Edit
Ike deals with the disappearance of Mike Strauss; DA Klein uses Ike's law-student son to battle organized crime; and Stevie and Lily's affair heats up. Original Air Date: Apr 13, 2012
Castles Made of Sand
Edit
Ike considers bribing officials to bring legalized gambling to his hotel; and Vera gets a surprise visit from an old friend. Meanwhile, Ben worries that his wife is cheating on him; and Ike asks a big favor of his wealthy former sister-in-law. Original Air Date: Apr 20, 2012
Atonement
Edit
Ike deals with a break-in; Victor formulates a plan to spirit his wife out of Cuba; Vera hopes to land Jackie Kennedy for a charity function. Original Air Date: Apr 27, 2012
Suicide Blonde
Edit
Ike is determined to save Judi Silver from Ben Diamond. Polaroids of Stevie and Lily surface. Vera tries something new to get pregnant, Danny and Mercedes' bond grows, and Klein's search ramps up. 
The Harder They Fall
Edit
Enter a brief synopsis here!
Who's The Horse And Who's The Rider?
Edit
Enter a brief synopsis here!
Time and Tide
Edit
Enter a brief synopsis here!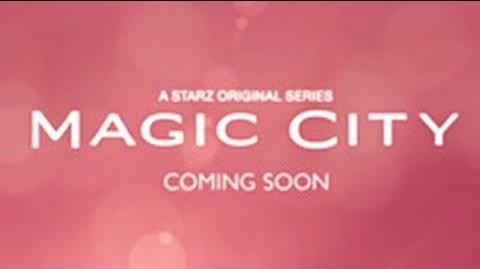 References
Edit
Community content is available under
CC-BY-SA
unless otherwise noted.